Note: If you are currently suffering from the browntail moth rash and are looking for our compounded browntail moth spray or lotion, please have your doctor call in a prescription to (207) 899-0886. If you have questions, contact us at the same number or send us an email. Relief is in sight!
The browntail moth has been getting a lot of attention over the past few years. This is because their numbers have spiked to a level we haven't seen in quite some time. Last year was a banner year and this year's population is predicted to be even higher. Why the concern? Because the toxic hairs shed by browntail moth caterpillars can cause a severe rash or respiratory issues for those who encounter them. These hairs are easily encountered once they become airborne.
What Causes the Issue
Throughout much of their life cycle, the moth sheds its toxic hairs which become airborne or attach to leaves and brush. When the barbed hairs contact our skin or lungs, they can cause itchy painful rashes or respiratory issues. Issues are reported most in June and July when the toxin concentration in mature larvae is at its highest.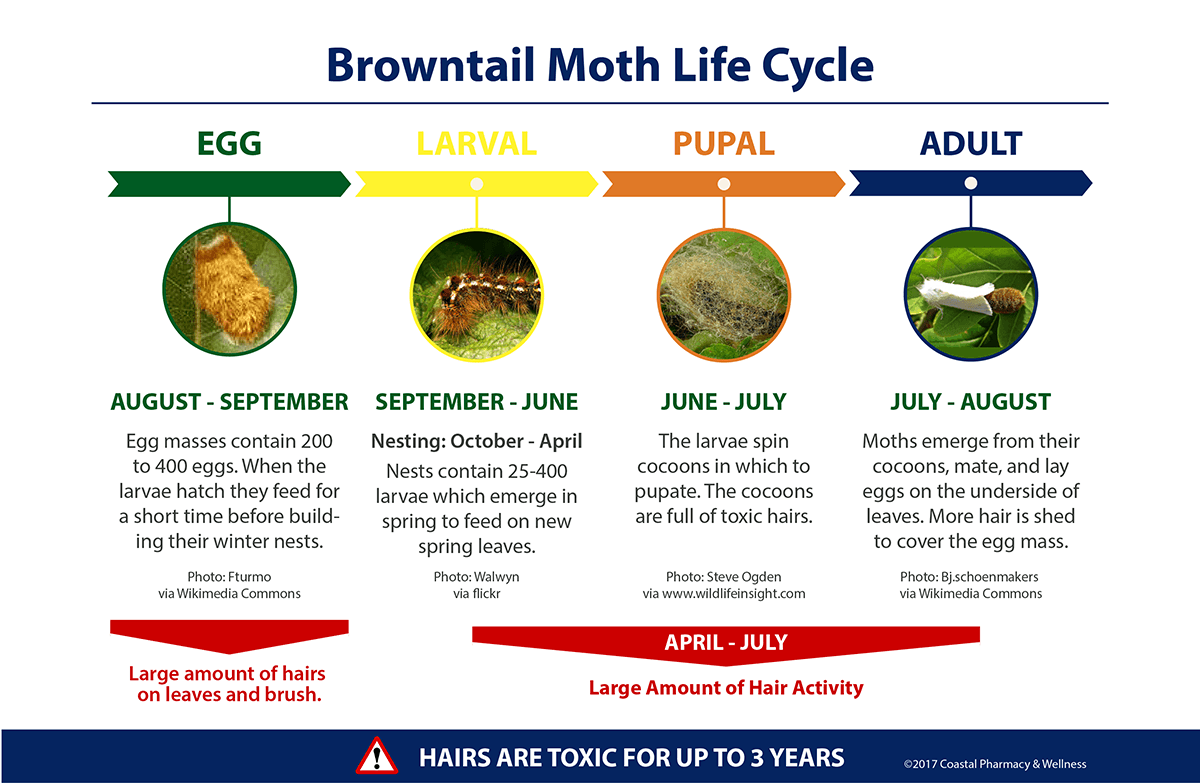 How do you know they're in the area?
In Maine, the primary area of infestation is the southern coastal part of the state (view the risk map from the Maine Forest Service). Recently, they were discovered in Portland, a city that had previously been spared. Their nests are noticeable webs that are typically found on oak or apple trees. They appear in the fall and shelter the larvae through winter. In spring, hundreds of larvae can emerge from each nest to start wreaking havoc on trees and humans.
The best indicators of browntail moth infestation are vacated nests and trees and shrubs with a lot of missing leaves.
Reactions
The most common reaction occurs when the caterpillar hairs contact the skin. This can cause both chemical reactions to the toxins and physical irritation when the hairs get embedded in the skin. The chemical reaction, referred to as dermatitis, produces a severe rash similar to poison ivy. Symptoms include itchy, blistered and swelled skin. The rash itself is not contagious. The rash is caused by a reaction to the toxins that are in the hairs.
Respiratory issues are less common but can be particularly problematic for asthmatics. If you have asthma, you should carry your inhaler with you when spending time outside, especially during windy conditions. If you choose to be outside under these conditions, you may want to wear a mask that covers the nose and mouth.
If the hairs get caught in the mucosal areas of the mouth or throat they can cause burning, irritation or itchiness. Symptoms may be relieved by taking liquid Benadryl which helps counter the histamine reaction that the hairs can cause. However, you are encouraged to seek medical attention.
Symptoms can appear within hours of contact. If you think you've developed a reaction, make an appointment with your doctor as soon as possible to discuss treatment options.
Treatment
There is no antidote for the toxins, so treatment is focused on relieving symptoms and eliminating further exposure. Coastal provides a compounded topical browntail moth medication which has been shown to significantly reduce discomfort from the rash. The compound is available, by prescription only, in both cream or spray. The spray is especially beneficial in treating these types of rashes that are painful to touch. For those who have an acute case, a short course of oral corticosteroids may be prescribed.
Since many reactions occur over weekends, seeing a doctor may not be immediately possible. In these cases, you may find relief by soaking in a warm bath and applying calamine lotion or antihistamine cream.
Prevention
There are several actions you can take to reduce your risks.
Avoid places that appear to be infested. Indicators include vacated nests and trees and shrubs with a lot of missing leaves.
Wear a respirator, protective eyewear, and cover exposed areas of skin. This is important on windy days or when performing activities that would stir up hairs such as lawnmowing or raking.
Wipe or rinse off lawn furniture before sitting in them.
Take precautions when driving through infested areas in an open-air vehicle. 
Do yard work on damp days or spray the area your working in. Moisture will help keep the hairs from becoming airborne.
Don't dry laundry outside. Hairs can become embedded in clothes and cause reactions when you wear them.
Wash clothes after spending time in an infected area to remove embedded hairs.
Take a cool shower after spending time in an infected area.
Use duct tape to remove any hairs that may have embedded while outside.
Remove nests. This should only be done in winter or early spring, while the larvae are dormant. Many nests are too high for the average person to remove, so check with an arborist to see if they offer nest removal service.
Fall 2018 Update
We continue to see cases of the browntail moth rash in the pharmacy. This is well past the typical browntail moth season. Prescriptions usually come in following fair-weather weekends where people have spent time outside. As many communities struggle to find a way to combat this public health issue, research efforts have gained traction.  For more information on one of the more public efforts, keep an eye on a study which was funded by the town of Harpswell. This article in The Forecaster summarizes the status of a Harpswell study being conducted by the University of Maine in collaboration with the Maine Forest Service: Harpswell study finds surprising browntail moth survival. Although the news that they are surviving longer isn't good, the research continues, with the project scheduled to conclude in February of 2019. For more information on the study, visit https://hhltmaine.org/browntail-moth-field-research-trials.
For more information, visit the Maine Forest Service website. They have a large amount of information available including a risk map and list of arborists willing to prune browntail webs.